Matala Pond Vacuums
The 2 H.P. motor is made with high quality German made components. In suction tests, Matala Pond Vac II is four times more powerful than its competition with a suction lift 5' above water.
Pond Vacuum Series
Pond Vacuum II
Pond Vacuum II-Plus 25% Larger Tank
Pond Vacuum Pro 80% Larger Tank
Also known as the "Muck Buster", the vacuum easily removes algae, sludge, dead plants, leaves and even small pebbles up to 3/8" in diameter.
The auto fill and drain cycles allow for water to fill the vacuum canister, then simply discharge water into garden beds. The on/off cycle is approximately 40 seconds vacuum and 20 seconds drain out. When it is empty, it turns itself on automatically and continues to vacuum. Use the mesh bag to capture coarse debris before releasing the dirty water to the garden or yard drain. Do not return water to the pond. In this way you can use the vac to make monthly water changes. Safe for use in fish ponds and water gardens.
The Muck Buster Vacuum II is perfect for ponds up to 2000 gallons.
Matala Pond Vacuum Models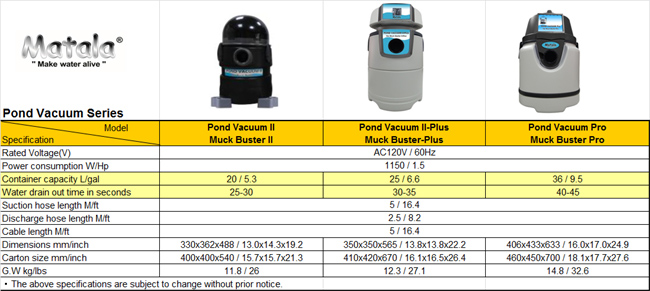 Pond Vac II Manual in PDF

Pond Vac II Normal Function

Pond Vac II Suction Adjust

Pond Vac II Trouble Shooting
Available Replacement Parts Include:
Foam Sleeve-Part #28
Gasket-Part #29
Discharge Hose Part #37-with Threaded Connection
Discharge Hose Part#37 with Push Fit Connection
Suction Hose Part ##50