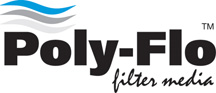 Product Highlights
Americo has been the prime manufacturer of nonwoven biological and mechanical filter media for the U.S. pond and aquarium industry for over 10 years. We are truly dedicated to this industry and are proud to be an integral part of the growth and awareness of healthy ecosystems of ponds and aquariums.
Americo Poly-Flo Biological filter media has been designed to be contain high surface area for beneficial bacterial colonization, resists clogging and channeling, is durable, long lasting and UV resistant. Our Mechanical filter media is designed to trap debris while allowing a high volume of water to pass through. Our material is tested by an independent bioassay lab to make certain is non toxic to fish.
Poly-Flo is very popular for live well bait filters when using Shinners as bait. It catches the scales and prolongs the life of you bait. Easily cut to size to fit your live well filter.
Features and Benefits
Medium density allows for optimum particulate removal while maintaining an adequate water flow.
High efficiency filtration without having to clean the pad too often.