Hydra Blue Water Dye (Powder)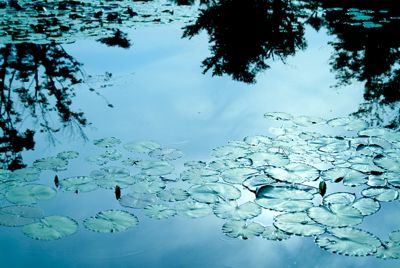 Water Dye - Vibrant Blue
Features & Benefits
Highly Concentrated Powder - three times stronger than liquid dyes.
Gives a rich blue finish to water - Lasts for months.
Ideal for koi fish ponds, farm ponds and lakes.
Within minutes of applying the product, the pond water is colored blue.
Blocks the sun's rays (UV light) to effectively starve the growth of existing algae and formation of new.
Enhances the reflective properties of ponds and water features.
Creates a stunning background for water plants in koi, fish, and garden ponds.
Completely free of pesticides and herbicides.
Hides aquatic life from predators.
Food based dye, harmless to filters and plants.
The dosage recommended is very low and has no effect on fish, any visiting wildlife or domestic animals.
Each pack of dye contains a pair of protective gloves.
Full usage instructions on label.
Normal dilution is between 1:1,000,000 to 1:10,000,000 - dilution will depend on color of original water and depth of colour required.
Usage Rates
8 oz treats 60,000 gallons of water.
28 oz treats 210,000 gallons of water.
Ordering Information
To order online, use the form below or call 866-444-0977.
ORDERING
Please Note: Your credit card statement will show your charge to either Climax, LLC or Climax Photo depending on your card. For more information about ordering from us, please see our Ordering page.